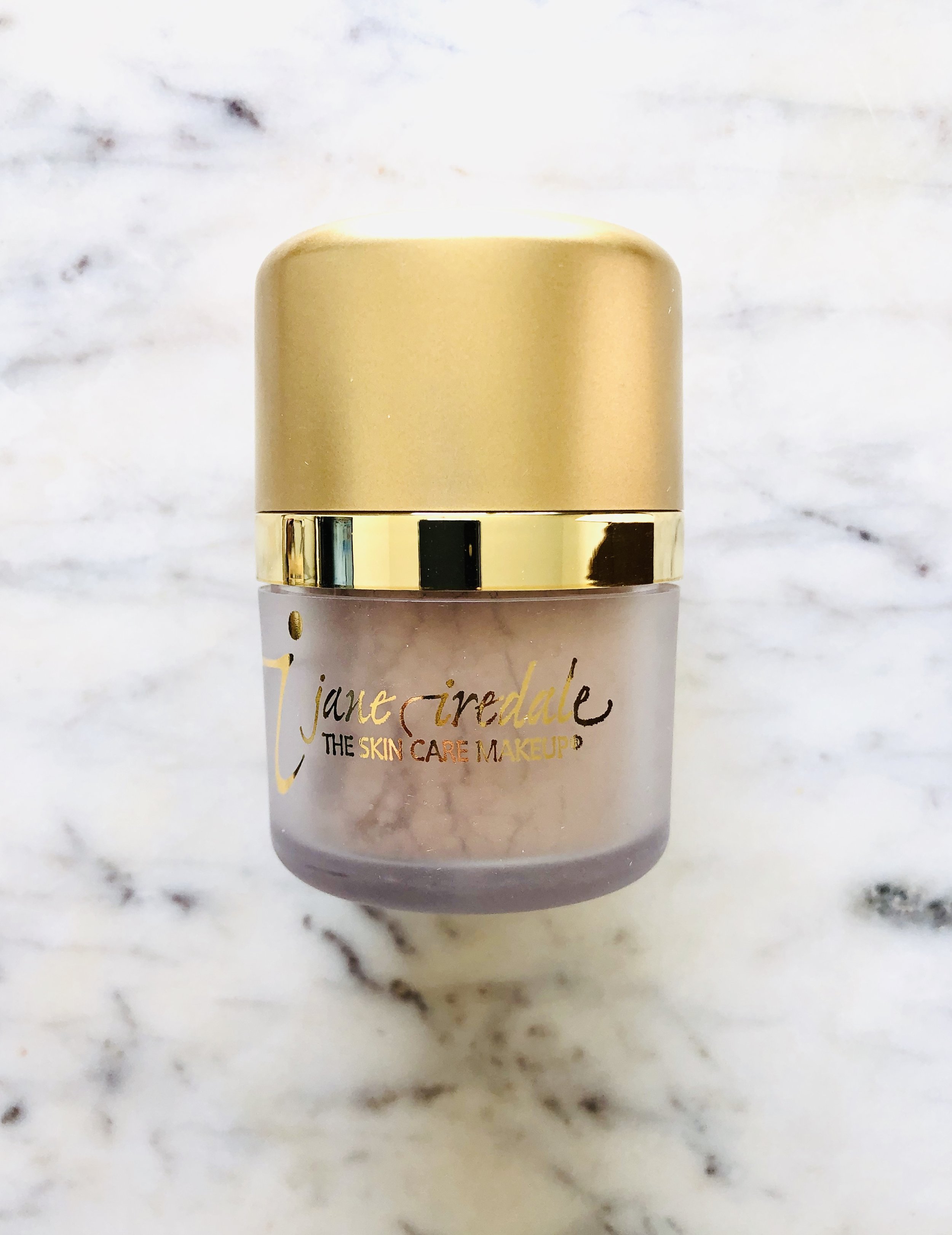 Jane Iredale Powder-Me SPF Dry Sunscreen in Nude- $47.00:
Here's the quick SCORECARD breakdown. Each question is rated on a scale of 1 to 5, 5being the best:
1. How do the ingredients look? What's inside?- Overall, a short list of low-ranking ingredients. Call-outs where Titanium Dioxide and Chromium Greens. You can see more on those two down below!
2. How's coverage?- 3: I was actually surprised at how much product applied with the poof/sponge! A little touch goes a long way. It looked a little heavy on the powder at first, but I used a large brush to blend it in. Worked like a charm. Skin looks a little 'powdered' unless you play with it, making the ease and convenience of the sponge packaging, short-lived. I do think the color was more than a hint! I applied a tinted spf underneath and this on top got me to a medium level of evening-out/coverage.
3. Does it last?- 4: I think this powder really held up well. I wish it was a bit more lightweight in coverage, but what I did apply, stuck around throughout the day.
4. Is it non-irritating?- 5: I haven't experienced any issues after wearing this for over a week.
5. Does it blend and build well?- 3: I would say it blended out well with the use of another brush, for sure. There's not much building here unless you're wanting to go for that cake-y look :)
6. Is the shade range inclusive? 3- Meh. Four shades does not an inclusive range make.
7. Is this a consciously-created product? 3- Jane Iredale has a solid reputation when it comes to cruelty-free, vegan and beyond certifications which is why I love the brand. On the packaging side of things, my question is out to the brand, but from what I can tell, the approach here is not a sustainable one. I'll have updates on that and whether the mica is ethically sourced soon!
FINAL SCORE:
21/30
WHAT STANDS OUT:
The application is definitely different. I'm not sure the sponge is really winning, but it's definitely interesting :)

It's a fuller-coverage look in my opinion. You can get a dusting of color and some pretty decent coverage with it, plus SPF 30!

It definitely lasted and you definitely need to be ok with a more powdered look. A light mist of setting spray will help if you have drier skin

Oily skin types may LOVE this! Just make sure to clean the applicator now and then, womp womp

If you're not loving the idea of this application, you can always try the Jane Iredale powder foundation that also has SPF in it! HERE.



IFFY INGREDIENTS + EWG RATING:
These were the not-so-great ingredients that didn't pass the Rule of 3. Click below to find out all the details:
Titanium Dioxide 1 to 3

CI 77288 2 to 5
I followed up with the brand on packaging and mica sourcing. Their response is below:
"The packaging of Powder-Me SPF is recyclable, but not the internal sponge or applicator. The container is not made of post-consumer recycled material. Jane Iredale uses mica that is manufactured wholly under strict laboratory conditions. The laboratory purification and synthetic manufacture of minerals is done in order to ensure that the minerals are free of the contaminates that occur in the minerals' natural state."
A LITTLE "LIGHT READING" FOR YA? CHECK OUT THE FULL INGREDIENTS LIST + EWG RATINGS + AMOUNT OF EVIDENCE/DATA AVAILABLE:
I pull these directly from the site. You'd be shocked at how many product pages have misspellings so if you see one, you'll know why! I didn't catch it. Neither did the retailer. Funsies!
Titanium Dioxide- 1 to 3

Mica- 1, fair

Boron Nitride- 1, fair

Aluminum Hydroxide- 1, limited

Punica Granatum (Pomegranate) Extract- 1, limited

Pinus Strobus (Pine) Bark Extract- 2, limited

CI 77491- 2, fair

CI 77492- 2, fair

CI 77499- 2, fair

CI 77288- 2 to 5, limited

Ci 77489- 2, fair

Montmorillonite- 1, fair
CURIOUS ABOUT WHO IS REVIEWING ALL OF THESE PRODUCTS? Good question. Moi. Check out my skin profile here.
FULL TRANSPARENCY, ALWAYS…
Every product is honestly rated using TheStyleShaker SCORECARD system to keep things as objective as possible. To learn more about my "Rule of 3" CLICK HERE. This post may contain affiliate/referral links, but all views are my own. No one is paying me to say any of this. Read the complete TheStyleShaker.com disclosure here. Product information and EWG ratings may change along with the brands and the formulas they use. Click through the applicable links to get the most up to date information :)