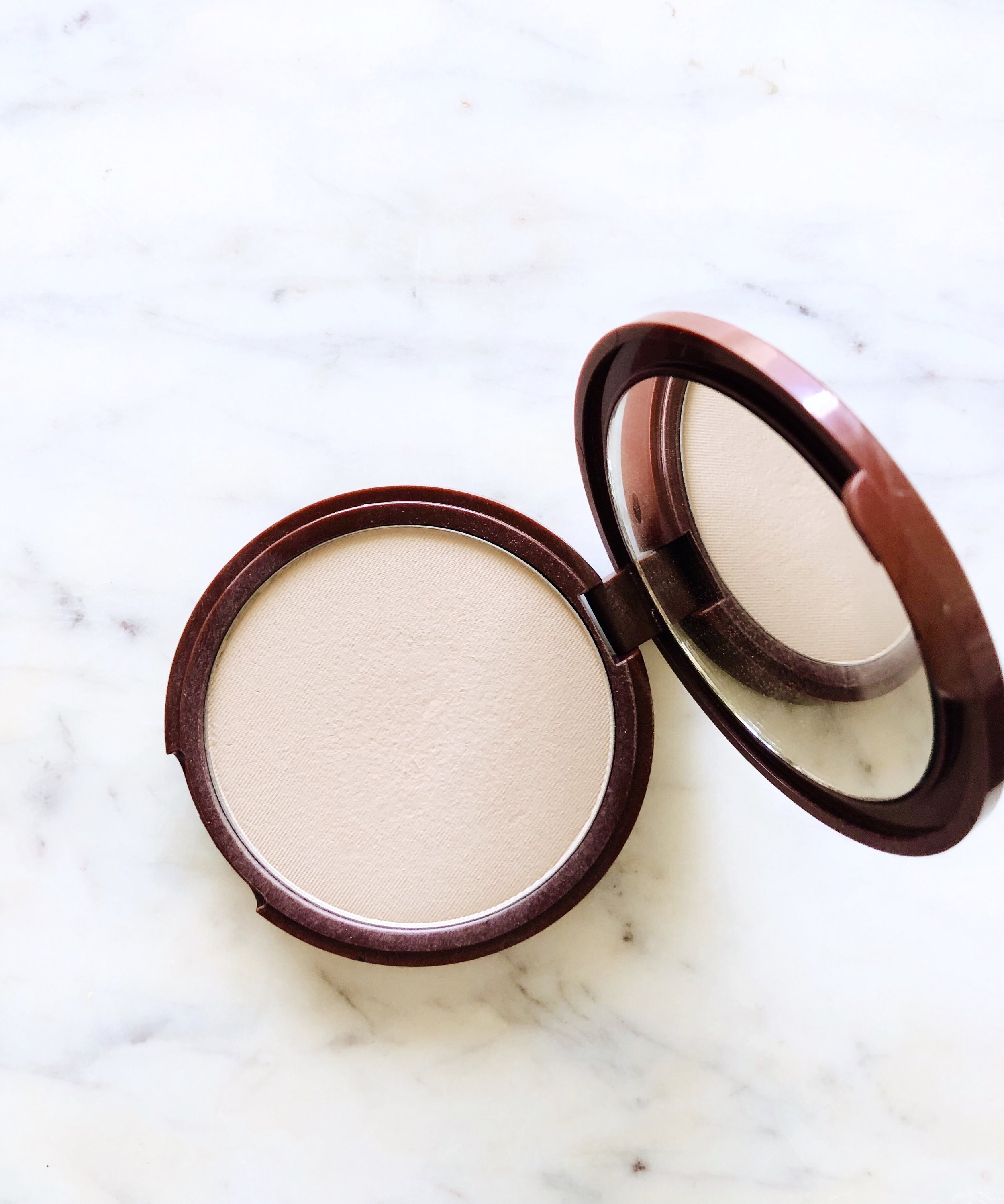 Mineral Fusion Pressed Powder Foundation- $32.99:
Here's the quick SCORECARD breakdown. Each question is rated on a scale of 1 to 5, 5being the best:
1. How do the ingredients look? What's inside?- Unfortunately, there's phenoxyethanol inside. There are a couple of other concerns. See below.
2. How's coverage?- 3: Overall it looked very natural for a powder. It did settle a bit into fine lines on the forehead.
3. Does it last?- 4: It did a great job on combo skin!
4. Is it non-irritating?- 4: This powder didn't irritate my skin.
5. Does it blend and build well?- 5: It did for me!
6. Is the shade range inclusive? 5- Fifteen shades to choose from- a lot more than most.
7. Is this a consciously-created product? 3- Cruelty-free, vegan, check and check. Packaging however, wasn't up to par.
FINAL SCORE:
24/30
PROS
Natural-looking coverage for a powder foundation

Lasted throughout the day!
CONS
Phenoxyethanol :(

Packaging- not close to sustainable

There was a lot of kickback when pressing my soft brush into the powder
WOULD I REPURCHASE?
Due to ingredients and sustainability, and a bit of this answer has to do with performance, I wouldn't. Instead, I would go for:
IFFY INGREDIENTS + EWG RATING:
These were the not-so-great ingredients that didn't pass the Rule of 3. Click below to find out all the details:
I asked the brand about the packaging and mica sourcing. Here's what they had to say:
"Is the packaging sustainable? Our current Mineral Fusion cosmetics packaging uses a foil that is not recyclable, however the inner component is recyclable. We're currently launching new packaging for our skincare line that addresses this issue, and are actively evaluating our packaging and components to see where we need to make changes toward a higher standard of sustainability.
Is the mica used sustainably sourced? Our supplier sources Mica exclusively from the USA (Georgia), and is an active member in the Responsible Mica Initiative (RMI), a group driven to eradicate child labor and support traceable, environmentally friendly processes."
A LITTLE "LIGHT READING" FOR YA? CHECK OUT THE FULL INGREDIENTS LIST + EWG RATINGS + AMOUNT OF EVIDENCE/DATA AVAILABLE:
I pull these directly from the site. You'd be shocked at how many product pages have misspellings so if you see one, you'll know why! I didn't catch it. Neither did the retailer. Funsies!
Mica- 1, fair

Lauroyl Lysine- 1, none

Zinc Stearate- 2, fair

Caprylic/Capric Triglyceride- 1, limited

Boron Nitride- 1, fair

Ascorbyl Palmitate- 1, limited

Hydrolyzed Mango Juice Extract- 1, none

Hydrolyzed Garcinia Mangostana Fruit Extract- 1, none

Camellia Sinensis Leaf Extract- 1, none

Alaria Esculenta Extract- 1, none

Aspalathus Linearis Leaf Extract- 1, limited

Glycrrhiza Glabra Root Extract- 1, fair

Punica Granatum Seed Extract- 1, limited

Aloe Barbadensis- 1 to 3, limited

Cucumis Sativus (Cucumber) Fruit Extract- 1, fair

Tocopherol Acetate- 3, fair

Sambucus Nigra Fruit- 1, limited

Phenoxyethanol- 4, limited

Iron Oxides- 2, fair

Titanium Dioxide- 1 to 3, good

Ultramarines- 1 to 4, limited

Zinc Oxide- 2 to 3, fair

Chromium Oxide Green- 2 to 5, limited

CURIOUS ABOUT WHO IS REVIEWING ALL OF THESE PRODUCTS? Good question. Moi. Check out my skin profile here.
FULL TRANSPARENCY, ALWAYS…
Every product is honestly rated using TheStyleShaker SCORECARD system to keep things as objective as possible. To learn more about my "Rule of 3" CLICK HERE. This post may contain affiliate/referral links, but all views are my own. No one is paying me to say any of this. Read the complete TheStyleShaker.com disclosure here. Product information and EWG ratings may change along with the brands and the formulas they use. Click through the applicable links to get the most up to date information :)