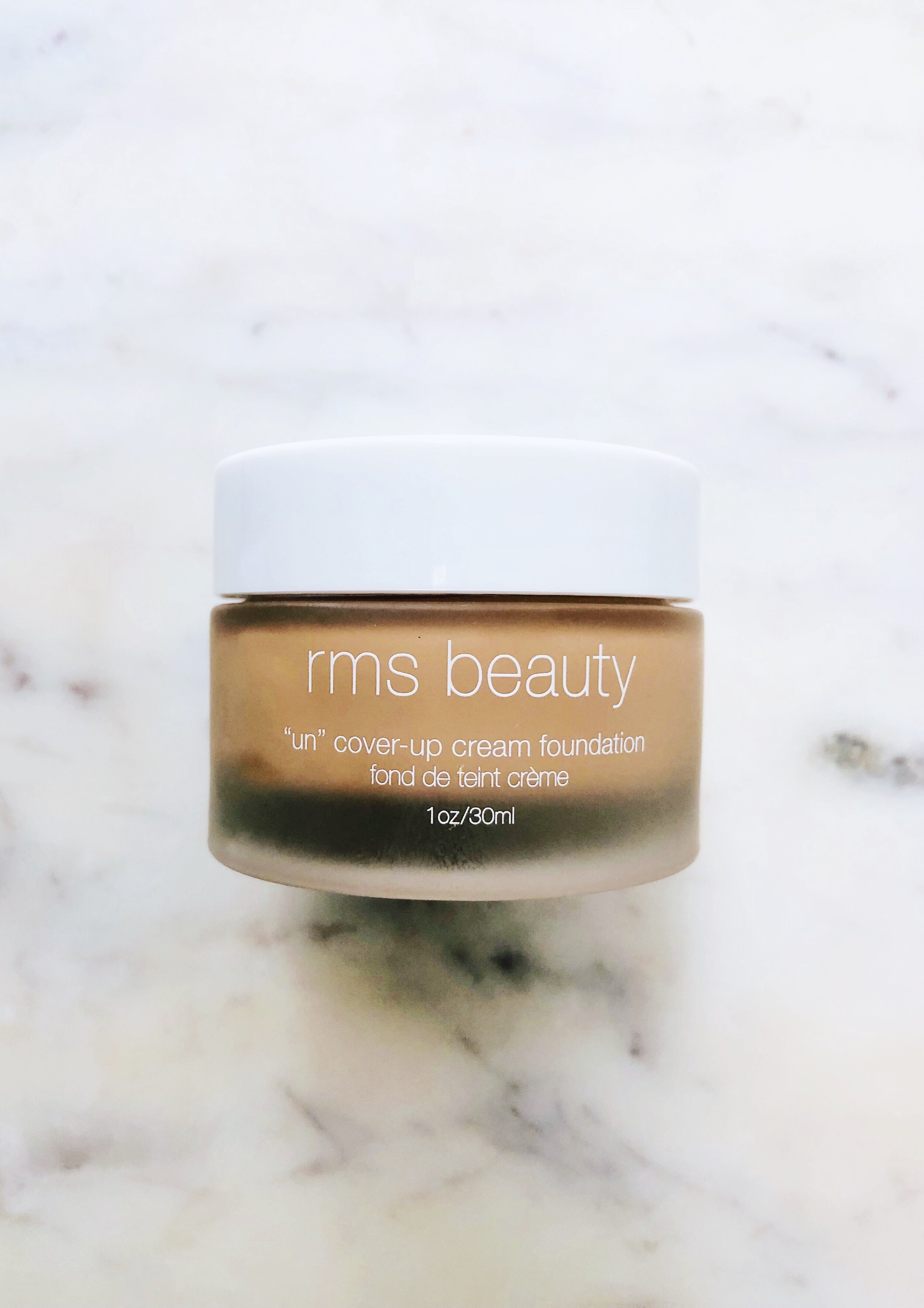 RMS Beauty "Un" Cover Up Cream Foundation in 22.5- $52.00:
Here's the quick SCORECARD breakdown. Each question is rated on a scale of 1 to 5, 5being the best:
1. How do the ingredients look? What's inside?- Looks great to me! If you have issues with coconut oil though, you may want to try something else. Ingredients list below!
2. How's coverage?- 3: This cream is thick and dense. Drier skin types (I'm combo and this worked for me) may need some moisture underneath. From there, you can blend with a brush or sponge to get a more natural look and this allows for sheering out. It did mean I needed a setting powder too. Oilier skin types may LOVE this and need a lot let futzing around with application.
3. Does it last?- 4: It did hold up all day (I did a few full-day wear tests), even when running around in hotter temps. Setting with powder for my skin was imperative.
4. Is it non-irritating?- 5: I saw no breakouts at all!
5. Does it blend and build well?- 3: Without moisturizer, it sits on top of my pores creating a 'polka-dot' effect that doesn't go away. With moisturizer, is streaks a bit at first, but buffs out to give a natural finish.
6. Is the shade range inclusive? 4- 16 shades is great!
7. Is this a consciously-created product? 4- Cruelty-free and contains lots of organic ingredients = a great start. The main container is also glass, although the lid is still plastic. It's getting there…
FINAL SCORE:
23/30
PROS:
I think this launch is a great addition to the RMS line. You're going to get more coverage than some of their other products offered.

I happen to think this would be amazing for oilier skin types!

Plus, the ingredients are on point.
CONS:
I felt for combo and drier skin types, there was a bit more 'fussing' around when it comes to application than I'd like, especially for this price.

My one-and-done alternative (adding a setting powder would take these lighter-coverage options closer to full coverage) would be either:
IFFY INGREDIENTS + EWG RATING:
These were the not-so-great ingredients that didn't pass the Rule of 3. Click below to find out all the details:
Titanium Dioxide- 1 to 3, *product may contain this. I'm not overly concerned here, but I do know for some, this is a deal breaker.
A LITTLE "LIGHT READING" FOR YA? CHECK OUT THE FULL INGREDIENTS LIST + EWG RATINGS + AMOUNT OF EVIDENCE/DATA AVAILABLE:
I pull these directly from the site. You'd be shocked at how many product pages have misspellings so if you see one, you'll know why! I didn't catch it. Neither did the retailer. Funsies!
simmondsia chinensis (jojoba) seed oil- 1

ricinus communis (castor) seed oil- 2

limnanthes alba (meadowfoam) seed oil- 1

cera alba (beeswax)- 1

oleic/linoleic/linolenic polyglycerides- 1

cocos nucifera (coconut) oil- 1

lauroyl lysine- 1

silica- 1 to 2

propanediol- 1

penty- lene glycol- 1

tocopherol- 1

mauritia flexuosa (buriti) fruit oil- 1

golden simmondsia chinensis (jojoba) seed oil- 1

hypericum perforatum (st. john's wort)- 1

equisetum arvense (horsetail)- 1

calendula officinalis (marigold)- 1

hemidesmus indicus (country sarsaparilla)- 1

curcuma longa (turmeric)- 1

withania somnifara (ashwagandha)- 1

glycyrrhiza glabia (licorice)- 1

olea europaea (olive leaf)- 1

titanium dioxide- 1 to 3

ci 77891- 1 to 3

ci 77491- 2

ci 77492- 2

ci 77499- 2
CURIOUS ABOUT WHO IS REVIEWING ALL OF THESE PRODUCTS? Good question. Moi. Check out my skin profile here.
FULL TRANSPARENCY, ALWAYS…
Every product is honestly rated using TheStyleShaker SCORECARD system to keep things as objective as possible. To learn more about my "Rule of 3" CLICK HERE. This post may contain affiliate/referral links, but all views are my own. No one is paying me to say any of this. Read the complete TheStyleShaker.com disclosure here. Product information and EWG ratings may change along with the brands and the formulas they use. Click through the applicable links to get the most up to date information :)