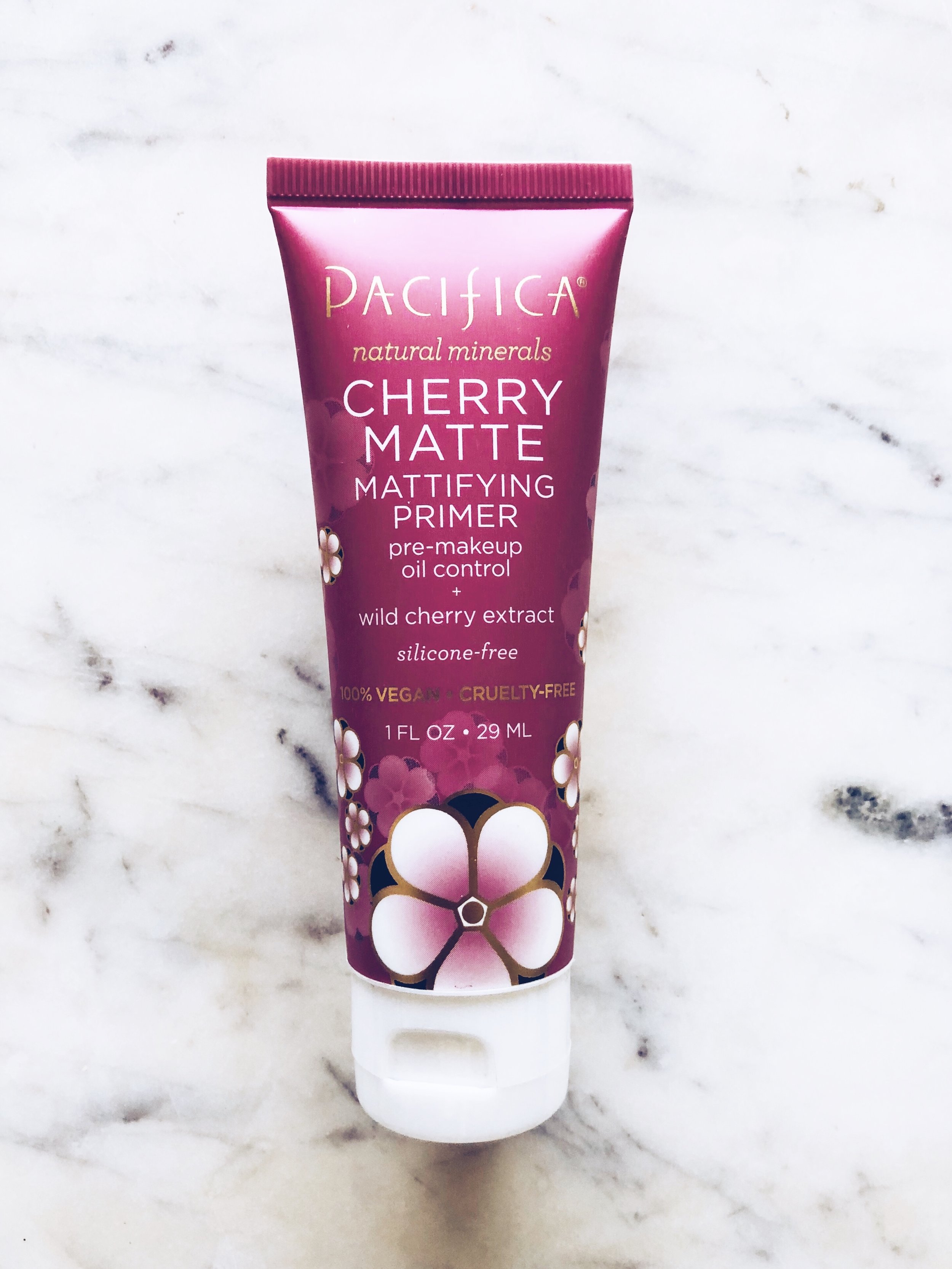 Pacifica Cherry Matte Multi-Mineral Primer- $8.99:
Here's the quick SCORECARD breakdown. Each question is rated on a scale of 1 to 5, 5being the best:
1. How do the ingredients look? What's inside?- Not so hot due to one word: "parfum." See details below.
2. Does it minimize pores and disappear to create a smooth, hydrated surface?- 2: I didn't see anything except a bit of luminosity which I found odd for a mattifying primer.
3. Does it last all day?- 3: The luminosity stuck around, yes. But as far as a matte effect, it was pretty non-existent.
4. Is it non-irritating?- 2: After removing my makeup at night, my skin felt very warm and turned pink. This happened twice before I made the correlation between this primer and the irritation.
5. Does it blend well with other products?- 3: It was just OK here. I did see a little streaking when applying products on top.
6. Is this a consciously-created product? 3- Vegan and cruelty-free, yes. Sustainably packaged, no.
7. Did the product do what it promised to do?- 2: No, it really fell short on a few key claims.
FINAL SCORE:
15/30
PROS:
Vegan & cruelty-free

Budget-friendly
CONS:
I saw no results on the claims that this product is mattifying, controls oil, gives a blurred focus finish, or is smoothing

Parfum :(
FINAL VERDICT:
Would I buy this again? No, thank you. I'd rather use the 100% Pure Luminous Primer any day. It also comes in a matte version! So if you're looking for that, which, you probably are if you're searching for this product, check it out!
POTENTIALLY 'IFFY' INGREDIENTS + EWG RATING:
These were the not-so-great ingredients that didn't pass the Rule of 3. Click below to find out all the details. Keep in mind, the percentage of these ingredients in the products MATTERS! I rarely take 'scary' scores on EWG at face value these days, and always ask the brand about to clarify if I'm concerned. Works like a charm! See their response.
FROM THE BRAND:
I asked what the ingredient listed as 'parfum' consists of-
"We list parfum on our ingredient decks because we follow the global standards for ingredient listings called INCI. Parfum, natural or synthetic, is the legal listing for a blend of fragrance chemicals, natural or otherwise. We use a blend of essential oils, absolutes, fragrant extracts and naturally derived fragrance and flavor materials. All of our fragrances and flavors are phthalate-free and do not contain any ingredients that do not meet our internal ingredient standards or our internal banned list which is about 1500 ingredients. Our fragrances are 100% vegan and are not tested on animals. In addition, all of our fragrances adhere to the following lists and do not contain ingredients banned on these lists: Cradle to Cradle Banned List, FRA Regulations, The EU Endocrine list, California Prop 65 list, Chemicals of high concern to children and the EPA toxic chemical list, The Candidate List of Substances of Very High Concern (EU), PETA."
THE BOTTOM LINE FROM BRITT: I didn't get a clear answer on what their blend of "essential oils, absolutes, fragrant extracts and naturally derived fragrance and flavor materials" contains. Not transparent enough for me.
A LITTLE "LIGHT READING" FOR YA? CHECK OUT THE FULL INGREDIENTS LIST + EWG RATINGS:
I pull these directly from the brand's or reputable retailers' website. You'd be shocked at how many product pages have misspellings so if you see one, you'll know why! I didn't catch it. Neither did the retailer. What's missing: percentage of ingredient used & the amount of evidence/data backing up each number rating from EWG.org. You can search the EWG SkinDeep database to find the data available behind each rating. You can find out the percentage of the ingredient used by asking the brand. Here we go!
aqua- 0

aloe barbadensis leaf juice- 1 to 3

sucrose stearate- 1

isosorbide dicaprylate- 1

glycerin- 2

bentonite- 2

niacinamide- 1

panthenol- 1

sodium hyaluronate- 1

isopropyl palmitate- 1

tocopherol (vitamin E)- 1

camellia sinensis leaf extract- 1

calendula officinalis flower extract- 1

cucumis sativus (cucumber) fruit extract- 1

rosmarinus officinalis (rosemary leaf extract)- 1

xanthan gum- 1

mica- 1

titanium dioxide- 1 to 3

barium sulfate- 2

silica- 1 to 2

silica silylate- 1

parfum (natural)- 8

sodium gluconate- 1

sodium benzoate- 3

prunus serotina (wild cherry) fruit extract- 1

potassium sorbate- 3
CURIOUS ABOUT WHO IS REVIEWING ALL OF THESE PRODUCTS? Good question. Moi. Check out my skin profile here.
FULL TRANSPARENCY, ALWAYS…
Every product is honestly rated using TheStyleShaker SCORECARD system to keep things as objective as possible. To learn more about my "Rule of 3" CLICK HERE. This post may contain affiliate/referral links, but all views are my own. No one is paying me to say any of this. Read the complete TheStyleShaker.com disclosure here. Product information and EWG ratings may change along with the brands and the formulas they use. Click through the applicable links to get the most up to date information :)